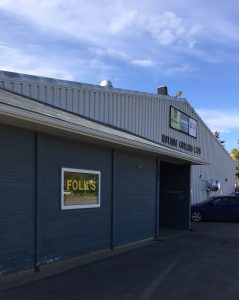 Folk's Curling Corner Ltd. is located in Saskatoon and was established by Dave Folk in 1983.
Store hours are 11 to 6 Mon thru Fri, 11 to 5 Saturday, closed Sunday and holidays.  Please call 1-866-233-7913 for any seasonal changes.
Curling has been a way of life for the Folk family for generations. Dave established Folk's Curling Corner Ltd. in Saskatoon in 1983, and brother Rick, World Champion skip 1980 and 1994, set up the Kelowna store in 1988 and closed his doors in 2013.
We continue to attain the largest selection of curling equipment in the World. Knowledge in the sport both physically and technically is the cornerstone of our success.
If you want an impartial opinion about the technical benefits of types of shoes, (Teflon thickness, design, etc.) brushes, (synthetic vs. hair etc.) and more, ask the professionals at Folk's.